INFORMATION
---
TRAVEL RUSSIA
Tickets

Domestic
International
TRAVEL CHINA
---
TRAVEL MONGOLIA
---
RUSSIA EXPERIENCE AND VOLUNTEERING
Picture Galleries:
---
PEN-PAL CLUB
---
LINKS
---
ABOUT US
---
---
SVEZHY VETER Travel Agency
426008 Izhevsk Karla Marxa 288a
mail: 426033 Izhevsk
p.o.box 2040 Russia
tel: +7 (3412) 450037, 613080
+7 909 064 69 95

Contact us
---
Homestay Russia
Download Application Form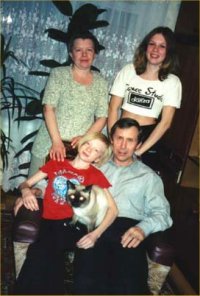 Homestay with a Russian family is a great opportunity to get to know the people, the country and learn the language. Fill out the Questionnaire, forward it to us. We will find a family that matches your profile and put you in touch as soon as we can.
As we do believe in authenticity of the experience, we honestly do not want the Homestay Russia applicants to expect any 'special' kind of VIP treatment: one will eat what the family eats, she or he will sleep the way the rest of the family members sleep. This absolutely does not mean, though, there will only be mats in a hallway or hopelessly dry pieces of bread with the WW2 casha left-overs...
It also does not mean the issues of meals and accommodation can not be brought up. They can, but best if done prior to your placement, to see what the situation is, to see if the conditions are appropriate, not after the placement is complete and you are here, stuck with family that does not appeal to you.
Eligibilty: 14 years and older, positive references
Application deadline:4 weeks prior to the requested time of placement (the placement fee and the original questionnaire are to be received before this).
Maximum period of stay: 3 months
Minimum period of stay: one week
Program Costs:
Russia-bound air, bus or train fare: to be covered by the applicant (we may always help you find discounted tickets) 80-600 EUR, depending on the origin of the Applicant's travel
Russia domestic train or airfare (the quotes are quite rough as often they are lower if paid earlier or booked for certain dates):

Train:


Moscow - Izhevsk - Moscow:
3rd class
one way
34 EUR
return
68 EUR
2nd class
one way
65 EUR
return
130 EUR
1st class
one way
126 EUR
return
252 EUR

Air (ex Domodedeovo airport, Moscow):


| | |
| --- | --- |
| return | 256 EUR |

if bought shortly before the departure. Advance purchase often can help you get good discounts.
Daily expenses (pocket money):100 EUR a month
Homestay fee (private room, single occupancy) per person:

12 EUR a day (full board)
8 EUR a day (breakfast only)

Discounts and special rates available for longer term stays.
Placement fee: 98 EUR
Visa support form (provided by the agency and required by embassies): from 29 USD
Consular fee: varies - check with the nearest Russian diplomatic post