Russia Travel Advice
General Information about Russia
(Customs, Arrival Procedures, Transport...)
Living in Russia
(Holidays, Safe Topics, Privacy, Food, Religion...)
Current Prices in Russia
(Clothes, Housing, Education, Leisure...)
Banks and Currency Exchange
(Bank System, Money in Circulation...)
Postal Service, Telephone, Internet
Internet Dating. Warning!
Visa Requirements
(Visas, Registration...)
General Information about Russia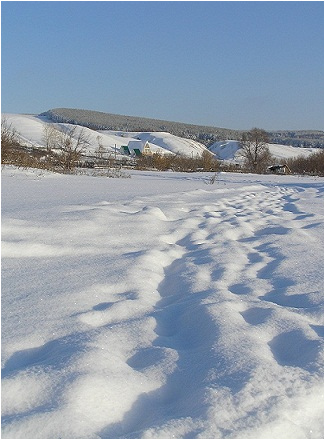 Russia certainly is much safer and economical for a traveller than is often thought. In many of the cities in Russia one can safely walk late at night without being afraid of being robbed or mugged, or assaulted in some way.

Violent crime is not as widespread as is commonly thought although petty scams and pocket picking can be prevalent. The basic rules of travelling apply in Russia: use common sense! Do not rush to trust every stranger you meet, but remember that most of the people you meet on your way, are genuinely interested in talking to you. Just keep in mind that people in Russia are generally shy, so it is highly improbable that they will approach you first and try to talk to you. If you talk to them - this should be fine. English may help you in the most of situations, but try to target young, educated looking people aged 15-35 as being more friendly and likely to be able to answer your questions. In most parts of Russia, a westerner or a tourist is still a great rarity, and speaking to one is not always that easy psychologically. The further one ventures from Moscow, the more this is a fact.
Back to top

Customs.
On the plane or in the arrivals hall of the airport you may be requested to fill out a customs declaration form. You are advised to declare ALL the currency that you bring into the country and on the back of the form list the particularly valuable items that you are carrying, such as very expensive jewellery items. Be sure to keep your customs declaration form as you may be asked for it when leaving the country.

The basic principle is that you won't be allowed to export more currency than you import. In other words what you had declared is what you will be allowed to take out of the country. Unless you are able to provide additional bank or ATM and cash machine certificates (or receipts) officially entitling you to such export.

Whatever the situation, any export of cash (being Rubles, Dollars, Euros or the like) exceeding (per person) 10,000 USD equivalent in total has to be approved by the Central Bank of Russia, and, accordingly, the relevant documents have to be presented to customs at the time of border crossing. Otherwise the traveler is risking having the excess confiscated (at best).

If you buy an original piece of art, icon (normally never allowed for export), balalaika (other than the toy type mass produced ones) or a similar object, make certain that you get a legitimate(!) receipt and a signed and stamped certificate (no less legitimate too!) to say that it is not a genuine piece of antique, for customs purposes. The most common problem is telling a good/real certificate from a bogus one. Do not buy the things, the origin of which you are not sure of, unless you want to run the risk of ultimately losing them at customs.

Arrival Procedures and Moscow Airport Connections
Sheremetievo (SVO)
Vnukovo (VKO)
Domodedovo (DME)
Bykovo


Important!

Very often at any of the airports (and especially at the airports!) or on your way there you are more than likely to be stopped by disinterested helpers telling you that:
no cheap connection to the city has ever been available or
it has recently been suspended or
it is not available at the time when you are there.
All that done to convince you to take their taxi services.
No matter what is said, the conclusion you will hear from them is always the same: you need to take a taxi (theirs, their friendsí, just a taxi). Be careful not to believe them right away. Very often it may be a part of a scam to lure you into buying their services at outrageous prices or a plot to rob you, being an innocent traveller.
Sheremetievo Airport
(more on Sheremetievo Airport)
A public bus (#817 and #851) from Moscow Sheremetievo Airport to Rechnoy Vokzal or Planernaya metro stations (the nearest in the city) is currently 10 Rubles, shared taxi for the same ride - 26 Rubles.
Do NOT accept the many private taxi rides that you will be offered unless it has been prearranged for you by someone you know.
Robberies may occur in taxis shared with strangers.
If you are not being met at Sheremetievo and you have to find your own way into the city, you have a few options.
To the right of the exit doors there is an official taxi agency, although their prices are still high (usually $US 50-$70 for a one way journey to Moscow). By bargaining you can probably often bring them down to as low as $25, but no guarantee can be made for the quality of their service. There have been some concerns over the safety of such journeys. The journey time into the center of Moscow is approximately one hour, depending on traffic. When booking a taxi for the return journey it is worth knowing that many private companies will charge an especially high rate for going to the airport. The municipal taxi service charges normal rates and works out much cheaper.
Leave the airport on the right hand side and cross two of the traffic lanes which run past the terminal's entrance. In the third lane you will usually see at least one van waiting. These are called 'marshrutniye taxi', or shared taxis. These minibuses will take you to the nearest metro station at the top of the green line (station Rechnoy Vokzal) or the pink line (Planernaya). From here you can proceed into the center of town on the metro. These vans fill up on a first come first served basis. They normally charge 26 - 30 RUR for their services. The passengers are often expected to pay for their luggage (10 rubles or so per piece).

The regular city buses stop right next to shared taxis, charge 10 rubles and ARE bigger.

You should check that their next stop will be the metro and not Sheremetyevo 1 as they do shuttle between airports too. Make a note of where you get out as this is also their pick up point if you wish to return the same way.
Back to top
Moscow Airport - Bus - Metro - Train Transit Connections Map
Moscow metro working hours: from 05:30 am till 01:00 am
One metro ride in Moscow costs 22 Rubles.
Regular ground transportation (bus, trolley bus or tram) ride in Moscow costs 20 Rubles.
Click to enlarge to printable (137 Kb):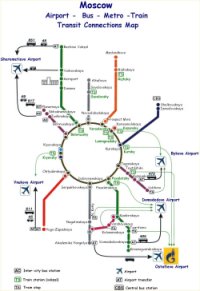 Interactive Moscow Metro Map

Transport in Russia is generally low-priced and affordable: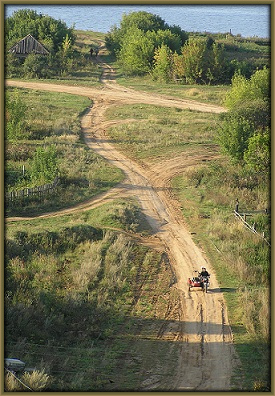 A metro, bus, tram or trolly ride in Moscow of any length: 20 Rubles, less if you buy a multiple ride ticket. All-transport monthly unlimited pass is currently sold at 1700 rubles.
Train is still the most inexpensive way to travel in Russia: one can expect to pay 40~80$ for a 20-24 hour 3rd class journey of approximately 1000-1500 kms in length. 3rd class costs about 30% of the 2nd class price. Both of these types of train cars are reasonably clean and provide each passenger with a berth or a bunk to sleep. Overall, they are much better than trains in the other parts of the world. Travelling from Moscow to Vladivostok takes one week and covers more than 9000 kilometers.
Train tickets in Russia can currently be bought 45 days in advance. The less expensive 3rd class (Plattskart) tickets are often fully sold out 25-20 days before the train actually leaves.
Anybody travelling on a train ticket in Russia is entitled to an up-to-10-day-stop-over anywhere along the way, provided one sees the station master and validates the ticket for further travel right after (no more than 1-2 hours) getting off the train.
Apart from validating the ticket, one needs to reserve a seat for further travel within the 10 day validation period of the ticket. It costs from a few rubles up to a few hundred, depending on the distance and the train class one reserves a seat for. Generally, all trains numbered over 150 are passenger trains and are less expensive.
The number of long distance inter-city buses in Russia is quite limited and they are mostly concentrated in the areas around Moscow and the European part of Russia. There are very few rides for distances longer than 500 kilometers, but plenty for those under 200, both between smaller towns and greater metropolitan areas.
Flying within Russia can be expensive. Surprisingly, outbound charter flights are often much less expensive (2-3 times) than the same distance flight within the boundaries of the former USSR. One can travel on a round trip ticket to Egypt for 450$ or less (four and a half hour flight), while most of the 1 or 2 hour flights to any place in Russia (ex-Moscow) are at least as expensive as the one for Egypt.
Back to top
Site Map